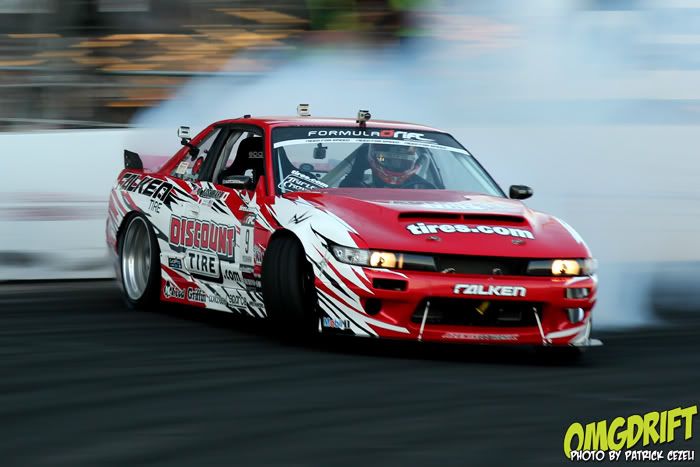 WOW… just WOW!! My first ever experience of FormulaD and to say it didn't disappoint would be an understatement. Seriously, you guys and gals in the States don't realize how lucky you are! I enjoyed almost every minute I had at Irwindale – more on that later. It's all fine and well looking at a FormulaD event on the drift stream and seeing videos of it but like anything, I guess you need to get up close and personal. On the face of it, FormulaD is just another drift competition, but delve deeper and what you have is not only one of the most exciting drift series in the world but definitely one of the most friendliest series I have had the pleasure of being a part of.
I flew in on Tuesday evening and was picked up by Ross Fairfield whom proceeded to try and kill me at every available turn on the way back to his place (Bro, slow down!). On Wednesday, I realized I didn't have an SD card for my camera and we went to the local camera shop were the guy proceeded to try and sell me a 16GB memory card for $100 – needless to say I bought the cheapest I could land my hands on. Early Thursday morning, we arrived at a very sunny Toyota Speedway and I was about to be treated to my first taste of FormulaD!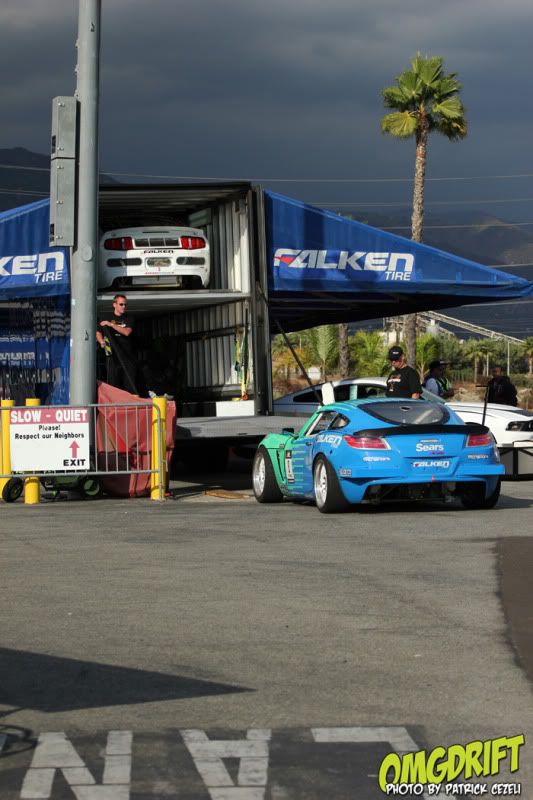 Team Falken had no respect for this sign all weekend!
I am willing to admit that when I first got to the track I was overwhelmed by pretty much everything. The sound of the cars was absolutely deafening at points and I was surrounded by not only loads of media people but people who I have looked up to and draw inspiration from. People like Tandem of Die duo Justin Shreeve and Joe Ayala, Mark Lenardon, Larry Chen, Abbitt Wilkerson, Yoshi Shindo, Antonio Alvendia; the list is endless. Thats not even mentioning the drivers for crying out loud! Haha. Here I was, just over 12 months experience, in amongst loads of fantastic media people – I felt really privileged to be there!
Ross sporting the Drift Monkey sunglasses – I guess something has to make him look cool! Drift Monkey were at Irwindale in force led by owner Ove Harlem who made the trip all the way from Norway! GO Drift Monkey!
Primarily, I was at Irwindale to do video so these photos were just for fun so I hope you guys enjoy them. I had great help all weekend from fellow staff members giving me pointers and lending me lenses – so a big shout out to Ross and latest addition to the OMG crew, Justin "Jay" Yadao.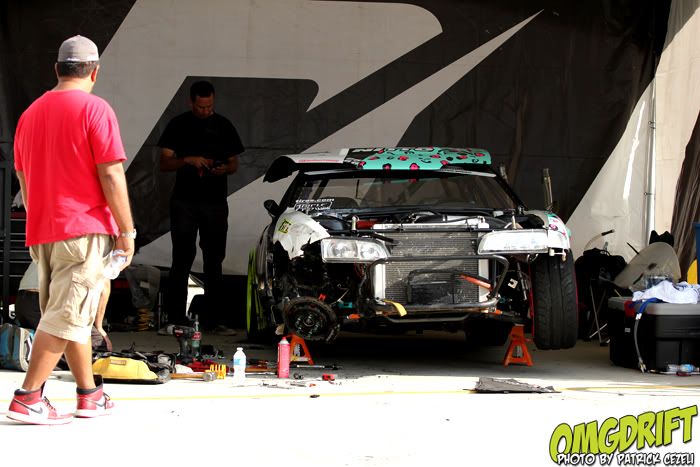 Matt Powers had an eventful weekend in the NFS S14. This damage happened on Thursday. We all saw Matt go into the wall and then heard that OMG's very own Leann McGlasson was getting a passenger run at the time! Thankfully both Matt and Leann were perfectly fine. 🙂

Late evening on Thursday and Chris Forsberg rides the outer bank in his NOS Energy Nissan.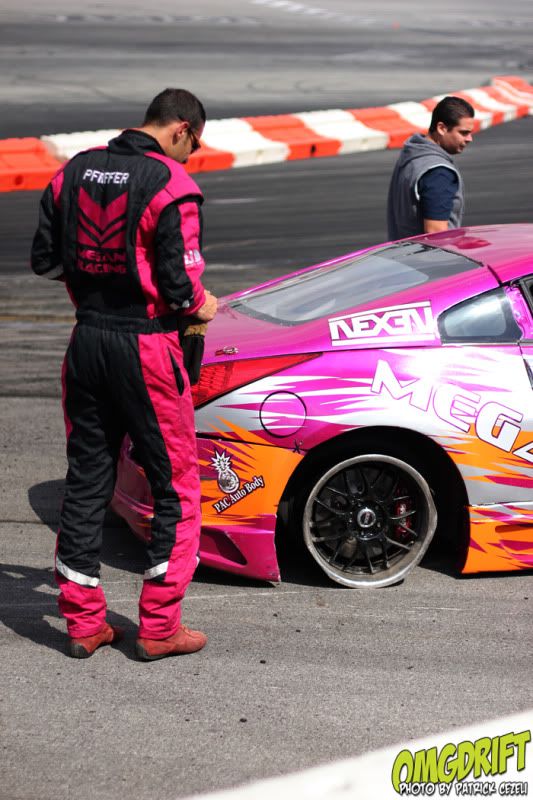 Alex Pfeiffer surveys the damage to his Megan Racing 350z after a wall tap on Thursday.
Remember I mentioned that I enjoyed almost every minute at Irwindale? Well, what happened was I got kicked off track! I was wearing my blue vest and had my wrist band but a rent-a-cop decided that I wasn't getting on track. To be honest, this really annoyed me and threw me a bit. I sulked for a while and told Ross I wasn't coming back on the Saturday. So I proceeded to sit in the stand for about an hour. I started to think "what will the lads in Ireland say if I have gone all this way with nothing to show for it?!" – I'd get my butt kicked and rightly so. So I talked to the FormulaD people and within 5 minutes, all was sorted and I was back on track again – any FormulaD people I encountered were great and always willing to help. One of the staff even asked me if I wanted sun screen – he had spotted my red face a mile away! Haha.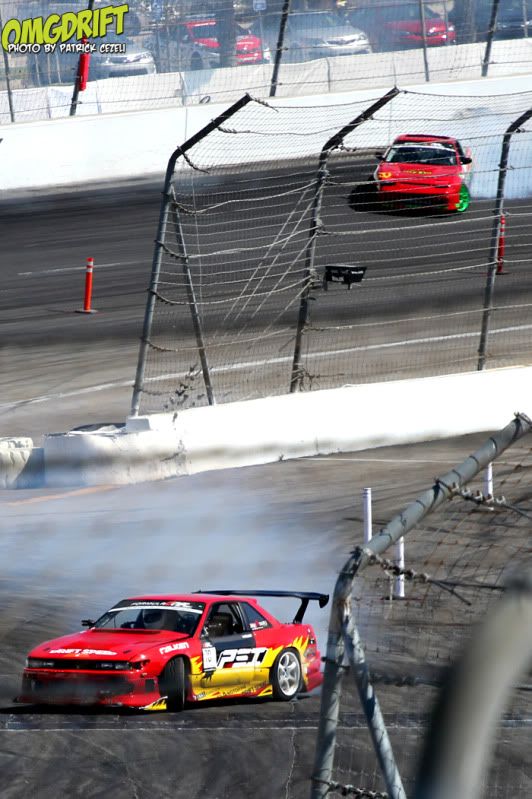 This pic I took when I was sulking in the stands – Nikolay Konstantinov in his S13 on the bank and Kyle Pollard in his PS13. (Thanks Rent-a-Cop)
Another cool thing about coming this far to an event is no matter how far you travel you will meet people you already know. Seeing people like Sarah Hegarty, Dan Hegarty, Graham McNamara, Ann McNamara (thanks for the sun block), Charlie McNamara, Kieran Hynes, Jules Chambers, Ian Bergin and so on was really cool. FormulaD has plenty of Irish fans, which is only natural when we have three top drivers in the series. Although it was funny I had to come to FormulaD to meet Dean Kearney and Eric O'Sullivan for the first time. I have met DMAC a number of times through ProDrift. real online roulette money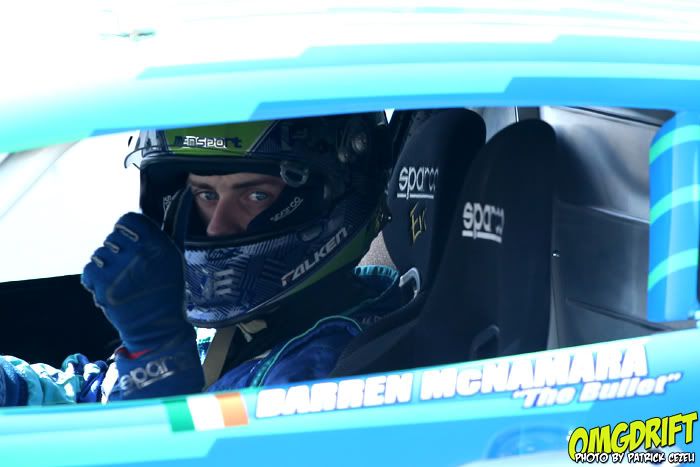 Thumbs up from fellow Irishman Darren McNamara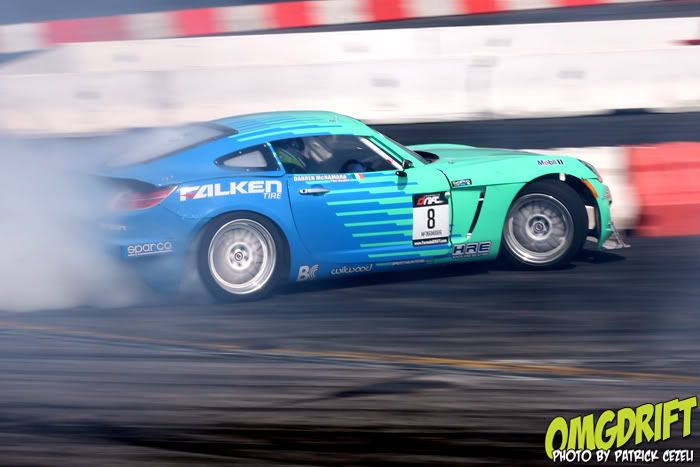 To any of the Irish fans who haven't seen this car or heard it in person – dump the ideas you have you need to see this car in action – Love it! the best online casino for australians

Like I said above, this weekend was the first time I met Dean and he was a super cool guy, really approachable and just an all round cool guy. Once Dean got his gearing sorted for Friday he was driving really well and made it to the Top 16 and was only thwarted by eventually winner Tyler McQuarrie!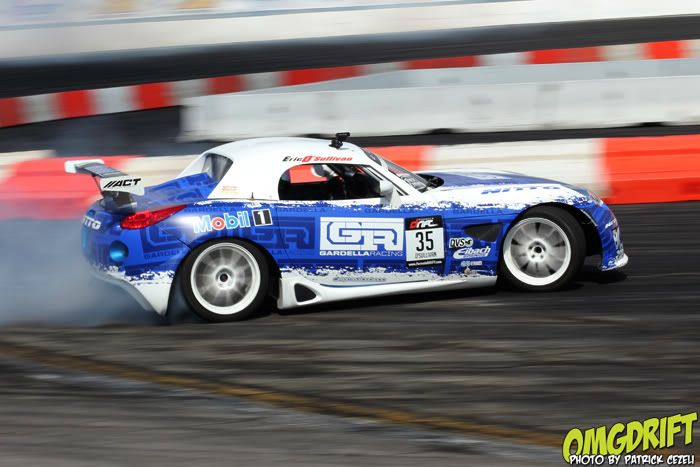 Birthday boy Eric O'Sullivan didn't have that enjoyable a weekend which was unfortunate as it would have been fun to see Eric competing on Saturday alongside Dean and DMAC

FC driver Charles Ng was another driver I got a chance to talk with over the weekend. Charles is a very accomplished driver and another very cool guy. After the event, he was on his way to test a WTCC car at Hockenheim in Germany. Best of luck with it dude!
More thumbs up!
I also got the chance to meet Joon Maeng – what a cool guy!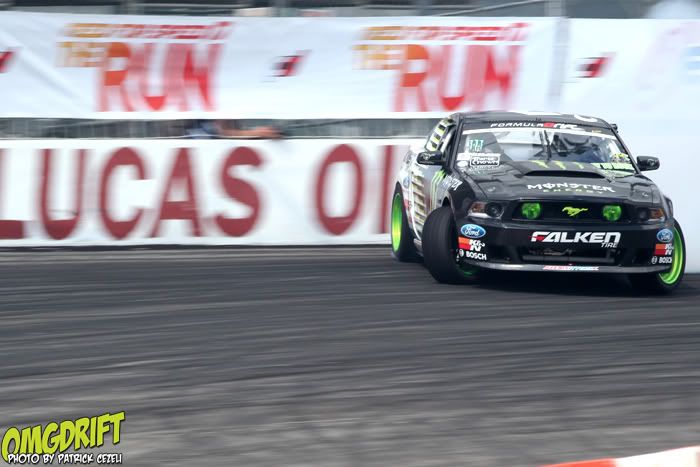 Vaughn Gitten Jr on the wall
Another cool guy is Vaughn Gitten Jr – Photog Kyle Pope presented Vaughn with an awesome photo from Las Vegas that he had mounted. Vaughn was completely stoked and proceeded to show all the Falken guys the picture. I got to say hi to Vaughn for a minute as these guys are always busy – he was really cool. Incidentally, I saw Vaughn and Tyler get hassled from the same Rent-a-cop I got hassled from – that made me feel less bad as if these guys are getting hassled means that the world wasn't out to get me! lolz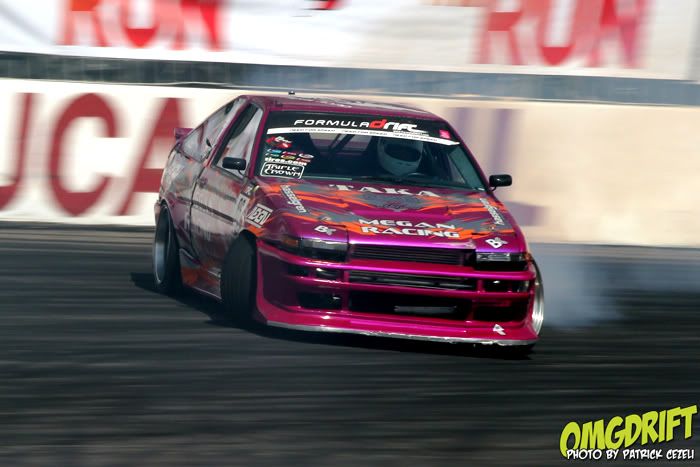 Taka Aono's Hachi Roku – I really like this car and I love Taka's style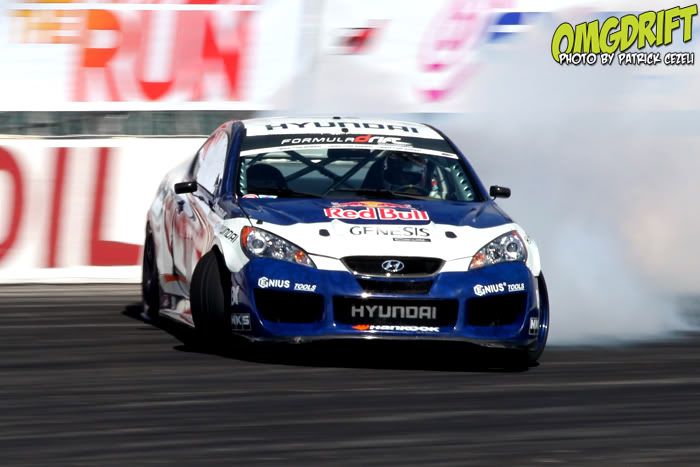 Rhys Millen in the Hyundai Genesis had a pretty fraught weekend but still managed to take 2nd overall in the main event!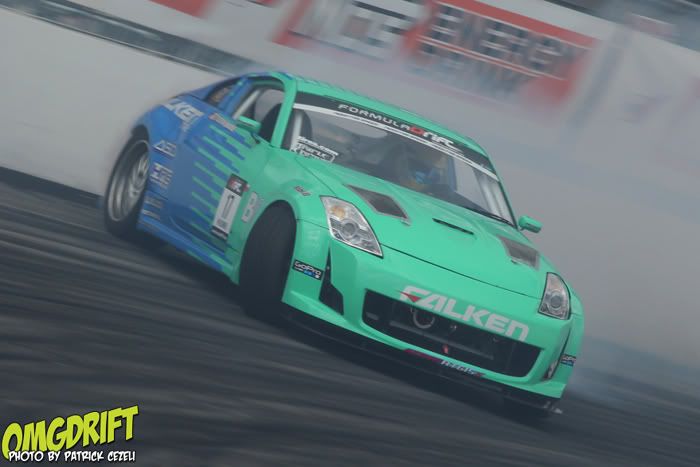 One of the drivers who impressed me personally all weekend was Tyler McQuarrie – every time he was on track he seemed to be on it. Seriously impressive driving, which led to him winning the event overall top online us casinos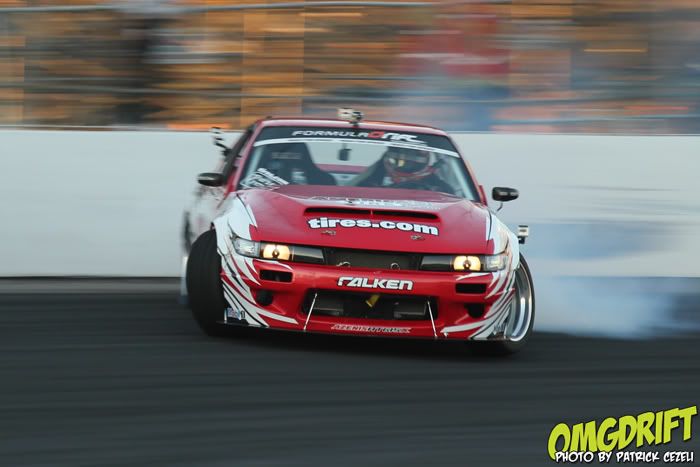 Last and by certainly no means least we have our 2011 FormulaD Champion Daijiro Yoshihara.
I am a relative newbie to the drifting scene but I remember going through a phase many years ago watching a TV programme on drifting in the USA and I always liked Dai from then. I just loved his style and he came across so well. I missed saying hello or introducing myself to him all weekend but as luck would have it I was walking back to the parking lot and low and behold Dai was walking back to the Falken truck on his own and practically dropped everything in my hands to congratulate him and shake hands with him – thee best moment of the weekend for me! Cheers Dai, you're my hero!
So many thanks to make to so many people: FormulaD for allowing me to shoot, OMGdrift – Ross, Drew, Leann, Brandon, Cayla, Justin, Jay, BG, Andrew, Sully – thanks to all those cool people I met too – Mark Lenardon, Ricky Cervantes, Dan Cyr, My fellow MotorMavens' Yoshi Shindo and Antonio Alvendia, Tandem of Die guys Joe and Justin – i could go on and on :). Will I be back? No doubt!